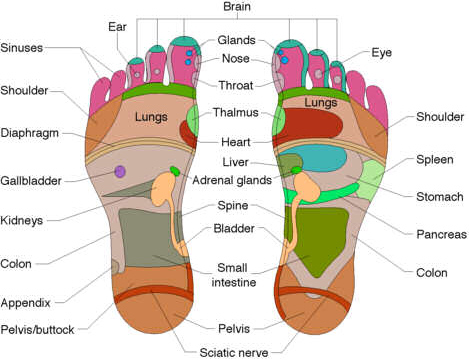 Reflexology is a pressure point reflex therapy on the feet. It uses deep pressure, massage and relaxation techniques on specific reflex points on the feet to relieve pain and internal body conditions. In a reflexology session, the reflexologist will apply pressure to the feet using the fingers and thumbs. Reflexology is not limited to the feet, it can also be applied to the hands. However the treatments is more effective when applied to the feet due to their sensitivity.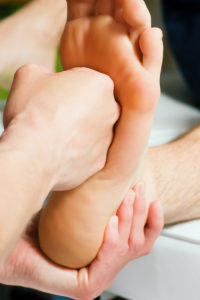 "The pressure applied during reflexology facilitates a physiological response in the body," says licensed acupuncturist and reflexologist Drake Ewing, MS, LAc, adjunct faculty at Bastyr University in Seattle. "Reflexology is a type of health care that has been used for thousands of years." Ewing says experts estimate that there are close to 7,000 nerve endings in the feet. The practice of reflexology stimulates these nerves and the central nervous system, which in turn interrupts or alters the way you feel pain.
Benefits of Reflexology
In my practice as a reflexologist I have seen clients getting great relief from pain after just one treatment, including: headaches, toothaches, musculoskeletal pain, nerve pain and menstrual pain.
As well as relief of pain, my clients have had results with reflexology treatments for:
Fertility problems (both men and women)
Menstrual irregularity
Digestive problems like: IBS, Indigestion, Bloating
Sinusitis
Respiratory problems
Insomnia
Anxiety
Stress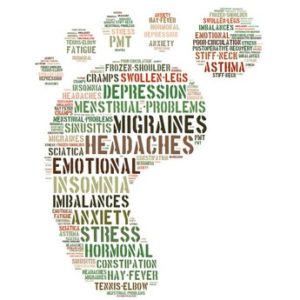 The body's capacity to heal itself never ceases to amaze me. As a reflexologist, I see my job as facilitating this process. I am not my client's "healer", it is their bodies that do the healing, and I simply have the tools and experience to apply the right techniques which allow this to happen. The reflexology treatment activates the bodies parasympathetic nervous response (the response that brings the body into a state of relaxation), which in turn combats stress and promotes general physical and psychological well-being. This relaxation process is enhanced in Dundalk Therapy Clinic with heated beds, blankets and the use of essential oils. In the treatment, the client's only job is to lie back and relax.
If you would like to know more about reflexology, you can chat to us on our facebook page: Dundalk Therapy Clinic, or get in touch through the website: dundalktherapyclinic.com
http://dundalktherapyclinic.com/wp-content/uploads/2017/01/Foot-chart-2.jpg
360
469
Peter
http://dundalktherapyclinic.com/wp-content/uploads/2016/11/dtc-logo.jpg
Peter
2017-01-28 21:16:19
2018-04-14 10:57:38
Reflexology for Chronic and Acute Pain